vintage coyote king
Our Vintage King is spacious and bright. Rustic relaxation without the fuss, and wilderness waiting for you in the morning. This is mountain country, where rooftop kayaks decorate muddy SUVs, and like-minded outdoor enthusiasts meet. So sleep tight in our Vintage King and hit the trails in the morning!
Highlights of this room:
HD remote control, color cable TV with over 60 channels

Free and fast Wi-Fi

Mini-refrigerator

Microwave

Coffeemaker

Eco-friendly bathroom amenities

Daily Housekeeping service


*Hair dryers and ironing boards available at the front desk.
We have two ADA compliant bathrooms with roll-in shower, sit down seat, and safety rails. To reserve an ADA room, please click on the "Book Now" button below. Then make sure to email us at vacation@coyotemountainlodge.com or call us at (970) 586-4376 so we can block the room for you.
What's included in your stay: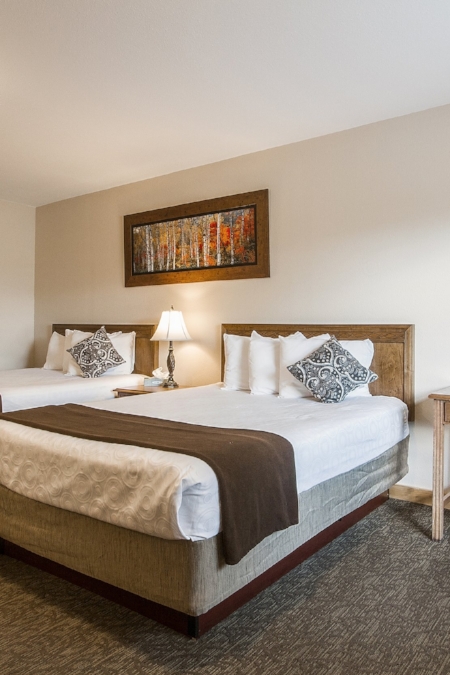 • Fast and friendly service for all guests and their dogs.
• Clean comfortable rooms with mini-refrigerators, coffeemakers, and microwaves.
• Flat screen TVs with DirecTv.
• Dog-friendly property in every room and lobby area.
• Complimentary hot coffee, hot chocolate, and hot teas from 7-11 am (May 1 to Oct 1) and from 8-11 am (Oct 2 to April 30).
• Pantry with popcorn, candies, granola bars, oatmeal, juices, and sodas. Each item $1.00.
• Outdoor charcoal and propane BBQ
• Free Wi-Fi in every room.
• Business center with computer access and printing capabilities.